WASHINGTON - Values-based diplomacy lies at the heart of the Czech Republic's support for Ukraine and Taiwan alike, the country's Chamber of Deputies president emphasized this week during a visit to Washington. Newly elected Czech President Petr Pavel sounded a similar note at the Copenhagen Democracy Summit earlier this month as he laid out how Prague views the threat posed by Moscow and Beijing.
Marketa Pekarova Adamova was 5 years old when the Velvet Revolution swept the communists out of power in winter 1989. Stories of how people suffered under communism shaped her worldview, she told VOA during her visit to Washington as leader of the Czech Chamber of Deputies, which is comparable to the U.S. House of Representatives.
"For example, my mother couldn't study what she wished to study," due to the government's severe control of everyday life, she recalled. "This is why we know, even in my generation, what communism is about."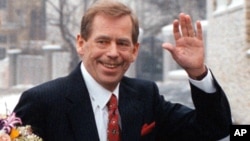 FILE- Vaclav Havel in January 1997.
The fact that dissidents such as Vaclav Havel were forced to spend years in prison also "had a huge impact on me," she added.
The 38-year-old led a parliamentary delegation to engage with U.S. officials in Washington and the states of Maryland and Georgia this week to bolster bilateral ties and common approaches to global issues including Ukraine and Taiwan.
While in Washington, Adamova told a news briefing that undergirding her country's strong support for Ukraine and Taiwan is the value her government and people attach to democracy, freedom and human rights.
'Our current government's diplomacy is focused on these values" personified by Havel, the dissident playwright who became the first elected president of her country, she said.
Adamova said her trip to Taiwan earlier this year was guided by this spirit. While they dealt with cyberattacks "on our mobile phones and other equipment," she said they faced much less pressure than did Czech Senate Leader Milos Vystrcil and the delegation he led to visit Taiwan in 2020.
Czech Senate Leader Vows 'Never Again' to Communist Totalitarianism
Back then, she explained, her Senate colleague had to endure pressure from Beijing and from critics within the Czech government, most notably then-President Milos Zeman, who cultivated economic and political ties with both Beijing and Moscow.
Vystrcil was "very brave and a great example to follow," she said. Unlike his experience, she and her delegation had the full support of the Czech government that came to power following the October 2021 election.
Speaking at the Copenhagen Democracy Summit held May 15-16 in the Danish capital, Petr Pavel, who succeeded Milos Zeman as president of the Czech Republic after winning a nationwide election in March, gave his full support to the values-based diplomacy in which Adamova - and Vystrcil before her - believe.
FILE - Presidential candidate Petr Pavel and his wife Eva arrive for a news conference in Prague, Czech Republic on Jan. 28, 2023, after Pavel became the fourth president of the Czech Republic.
In a keynote speech, "Defending Global Values," Pavel assessed the challenge to peace and democracy posed by Moscow and Beijing. He cast the battle in Ukraine as a conflict not only about territory and of regional impact, but as one that tests the strength of democratic aspirations - as well as democratic solidarity - in the face of aggression by a state armed with power and the desire to subjugate another people and society.
Pavel, along with other senior Czech officials, is a strong proponent of supporting both Ukraine and Taiwan.
In the long run, China poses a greater danger to world peace and rules-based order than Russia, which is being weakened by the current conflict in Ukraine, he argued.
China has emerged "much bigger and much stronger than Russia," he warned, and the more power wielded by a nondemocratic and aggressive government, the more danger it poses to peace and democracy worldwide, especially Taiwan.
FILE - Chairman of the NATO Military Committee, Czech Army General Petr Pavel, at a news conference at the Alliance headquarters in Brussels, Belgium, Jan. 18, 2017.
While Beijing is often said to have learned from the conflict in Ukraine that Western democracies were quick to form an alliance and issue punishing sanctions against the aggressor, Pavel cautioned that is not the only lesson Beijing has learned.
"China has learned that under pressure, we're able to be united quite quickly," he said. "But they also learned that we also had difficulties providing direct support from the very beginning," he pointed out. "Just look at how long it took for major European countries to provide major support to Ukraine with heavy equipment.
"So, they learned that we need time, and we prefer not to sacrifice too much," the Czech president noted.
"It is learning from the whole situation, first with regard to [a potential conflict with] Taiwan, as well as with regard to global competition," he said.
"If we want to preserve a world order where the rules - and not the biggest stick - matter, we should stick together, work together, be more flexible in cooperation with all willing countries."